Painting a Life: A Work in Progress (Or So I Thought)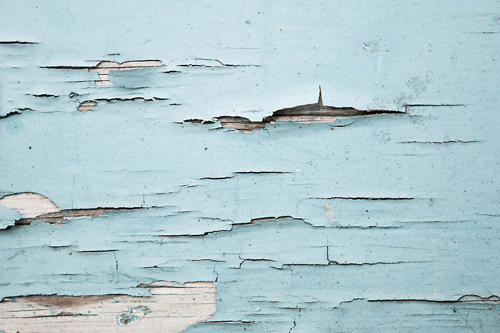 This is a story about a half-painted bathroom. That might sound really dull, ironically much like watching paint dry, but bear with me because this is also a story of how a half-painted bathroom represented my state of mind.
In October 2002 I took a gargantuan leap of faith and left my ten year marriage, packed up a U-Haul with 2 boxes of photo albums, 31 boxes of books, a single, stained twin mattress, and drove 1,721 miles across country to Cleveland, Ohio.
My friends, my family, and my husband thought I was nuts. Many were sure that I'd found someone else, a few thought I was going through a mid-life crisis at 33, still others just shook their heads and never were quite able to understand it. I'd be included in that last group, hitching my hand up in the air to be counted.
Stay and Wither, Or Go & Thrive
I still shake my head and, to this day, I find it hard to express why I left. I tell folks that there was a fork in my path and I had to choose. Stay and wither, or go and thrive. That's how it felt. Were I to stay, I strongly feel, I would have shriveled up and given up. The dramatic-giving-the-truth-scope writer in me thinks that I actually would have keeled over in my front yard on some random Tuesday on top of my bush of pink Bleeding Hearts wearing purple garden shoes — from a fervent lack of joy in my life.
That was the first time I really "Owned Me" as an adult. Somewhere between Clueless Teen and Wobbly Young Adult I'd lost that. Hell, when you're a baby you own your own shit as it squeezes through your chubby fingers and falls from the diaper you've just ripped off. And sure, as a little kid you're "owning" yourself all over the place: you're owning your Holly Hobbie socks, that white turtleneck with tiny green frogs smattered all over it, your genius Pac-Man skills, your ability to say "no" to playing Star Wars but "yes, Smurfs would be just fine."
Nesting, or Not
So with my Self in tow I arrived in Cleveland, found a loft apartment with exposed brick and a stellar city skyline view, and I tried to nest — but the thing was, I really didn't care. I didn't have a fork to my name. I found it serendipitous that I chose this fork in my path and had to go buy forks (but that's another story for another time). With the help of a new friend we painted and trussed up my living room & bedroom, I got some hand-me-down furniture and placed it here and there in the best Feng Shui pattern I knew and, after he left, I took that half gallon of remaining red paint, a brush, and went forth to tackle my bathroom.
Mid-brush stroke I ran out of paint. That was eight years ago. When I try to explain about my half-painted bathroom I'm not wholly sure that folks really get it. I didn't run out of paint for the second coat. I didn't run out of paint after finishing one wall. I ran out of Rustic Red paint on a white wall about three quarters of the way across the wall.
Me: Construction Zone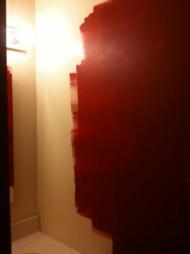 Over the years I've had overnight guests and visitors who've asked me about my unfinished wall and to every single one of them I've said that this wall represents me: a work in progress. The truth is I didn't want to be bothered with taking the empty paint can to Sherwin Williams, matching colors, buying more paint — I wanted to live. I wanted to be out and about every day surrounded by people I loved and have trysts with backhoes and shots of vodka. I'd spent the past thirteen years putzing around a house, nesting, making a home, and it hadn't made me happy. Eight years later and my life has changed so drastically that, at times, I hardly recognize it. I'm finishing up a Bachelor's degree that's taken 10 years, I'm "applying ass to chair" to write, I have a job I adore to the point that I don't want to leave my computer screen, I've taken a break from the vodka and the backhoes and my curdled liver is finally stretching back into some semblance of normal shape.
So yesterday I paid a wonderful man named Donald to come in and paint my bathroom. My whole bathroom. And as Donald & I listened to soundtracks of Glee and sang "Take a Bow" together — he painting my life, my work in progress, and me writing this article — this whole experience felt like the closing of a chapter on a life that was scattered, yet blissful, and on a work in progress that has, really, always been complete.
Finding excuses to use the john,
Melanie
https://melaniebates.com/wp-content/uploads/2011/01/HVHN7KSUQC.jpg
333
500
Melanie Bates
https://melaniebates.com/wp-content/uploads/2023/06/Melanie-Bates-Logo-1030x796.png
Melanie Bates
2011-01-16 00:03:31
2015-08-18 14:37:46
Painting a Life: A Work in Progress (Or So I Thought)