The Rollercoaster of Life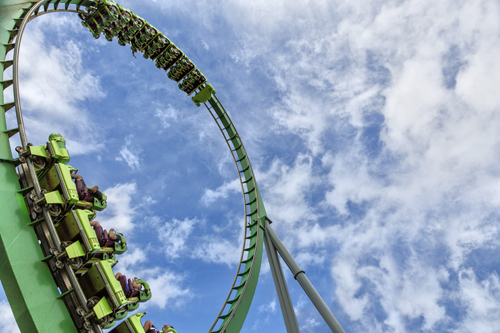 "You know, when I was nineteen, Grandpa took me on a roller coaster. . .  Up, down. Up, down. Oh, what a ride! I always wanted to go again. You know, it was just interesting to me that a ride could make me so. . . so frightened. So scared. So sick. So excited and so thrilled all together! Some didn't like it. They went on the merry-go-round. That just goes around. Nothing." ~ Grams on "Parenthood."
Some have said I've been on one hell of a rollercoaster ride this year. I would argue that it's been more like the Millenium Force at Cedar Point after three corn dogs slathered in yellow mustard and a large plastic baggie full of blue cotton candy. In the past seven months my rickety car has climbed toward the sky, stayed suspended at the top for a few moments in time, and plummeted down at lightning speed – taking my breath away.
The Ascent:
In May, at the ripe age of forty, I graduated from college. It only took 12 years. Not only did I graduate Summa Cum Laude I was nominated for Valedictorian. I joked with my friends that I would be the "Forty Year Old Valedictorian." I vomited and cried, hunched in the corner of my shower, when I considered having to give a speech. I lost out to a father of four from Palestine whose dream is to single-handedly change the relations between the U.S. and the Middle East. *Golf Clap*. I couldn't have been happier for this man. His eyes were full of hope, despite the fact that he still has to get his Masters while working two jobs to raise his children. My cart almost didn't make it to the top of this track.
The Precipice:
Also in May I made the decision to move and journey back home in my black covered wagon with my lil' pup So-Kr8z. I'd been in Cleveland for nine years and, oh, what a ride, but it was time to make a change. I packed up 45 boxes of books and my brother flew in to help me load the U-Haul, clean the sludge from underneath the refrigerator, and make the 1,990 mile drive to Utah. I had no idea where I wanted to end up. I just got in the truck and drove. I entertained the idea of heading to San Francisco, I considered staying in Utah. I dreamed about Bali. I scratched my head.
The Descent:
After I had settled in to my brother's house in a 10×10 room surrounded by a few boxes of said books I noticed a lump in my throat. I went around the house and asked my family if they had lumps in their throats too. I stared at my lump in the mirror. I felt it constantly. I considered that perhaps my body was producing too much testosterone and I was growing an Adam's apple. I worried. I made an appointment to see a doctor. I wasn't becoming a man.
Ultrasound.
Biopsy.
Words like "hashimotos", "disease", "cancer", "malignant", "benign, "tumors" bandied about.
Liquid shit in my pants.
Tears.
Written eulogies in my head.
Surgery.
And, just like that, I looked like the Maitlands' caseworker on Beetlejuice with smoke coming out the slit in my throat. I healed.
The Climb:
In the midst of graduating, moving 'cross country, having my thyroid and a few tumors sliced out, I started a business with one simple intention: to be the support behind visionaries (powerful women and a few kick-ass men) who were, quite literally, setting the world on fire and so full of passion that those around them are forced to wear shades. Business is booming and I've never felt more alive, nor more full. Though that could be because they removed the thyroid that had me crawling into bed at 5:00 pm for the past two years and saying no to absolutely everything.
I also made the decision to stay here with my family. It might have been my three year old niece's Hershey-colored eyes or her screams of "Aunt Meh" or our nightly cuddles playing spelling games on my iPad. It might have been being back home with all my Griswold's. It might even have been the mountains topped with frozen white stuff that I'd missed so much. It was definitely not the religion.
And, once I set the intention to stay here I found the most beautiful home in all the land, decorated just for me: colors, finishes, Craftsman style, beautimous. I want to weep with the joy. My own little sanctuary with views of my beloved mountains from all three sides. I close in two weeks. I'm nauseous with excitement, Giddy with the possibilities. Mentally decorating my hermit's cave.
Tips for the Ride:
It's so easy to keep moving back a few spaces in line so as to not ever reach the ticket counter at all. Buy a ticket.
Don't stand back by the Porta Potty eyeing the Millenium Force and all the brave people buckling themselves in. Get in line. Make your way to the front step by step.
Don't sit safely in the middle. Don't take the back seat. Plant your ass in the very first seat in your life, strap yourself in, put your hands in the air, and scream.
Don't close your eyes at the top. When you're sitting for those few moments at the highest point, take it in, look around, breathe in.
When you're screeching full speed downward don't open your mouth. You don't want to choke on an errant fly, for one, and the screaming isn't going to do you any good. Remember this: you're about to climb once more.
Don't exit the ride until you've come to a complete and full stop.
https://melaniebates.com/wp-content/uploads/2011/11/198H.jpg
333
500
Melanie Bates
https://melaniebates.com/wp-content/uploads/2023/06/Melanie-Bates-Logo-1030x796.png
Melanie Bates
2011-11-13 04:43:07
2015-08-18 13:33:48
The Rollercoaster of Life