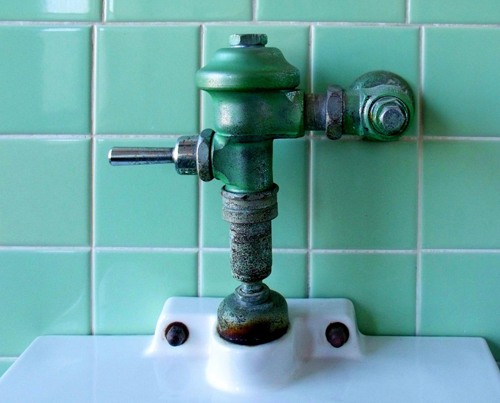 Who travels to Europe and spends as much time perusing the water closets as they do roaming through the Duomo of Milano? Well, I do. Perhaps it goes back to my nomadic youth traveling across the Western states. It wasn't that I really couldn't hold it for another half an hour before visiting the next toilet, and it certainly wasn't a bladder control problem. Looking back I think it was my way of combating boredom. Breaking up the monotony of staring at the back of the same red leather seat in my folks' Chrysler, of seeing herd after herd of antelope, of counting license plates from different states, and of fighting ferociously with my older, larger sister for my rightful half of the back seat. Bathrooms were the focal points of my journeys, especially on our twelve hour trips to Utah twice each year. My step-father boasted, often with disdain, that I knew every single bathroom on that twelve hour trek. It was true. There was a certain comfort, and a mile marker all my own, when we would arrive in Evanston, Wyoming and pull up to that dingy Shell station because I knew that inside of that greying building there was housed the only cushy, padded toilet seat of its kind. Or at least it had been my vast toilette knowledge to know.
To cleanse
How ironic then that thirty years later, on my second sojourn to Europe, I would find such a perfect analogy for the purpose of my trip.  I knew when I boarded that plane in Cleveland en route to New York that my reason for this trip was to cleanse, on every level. At the time I hadn't realized how difficult that would be. Let's take my Body Cleansing Plan, for example. I told my travel mate Justin before we left that I wanted to detox, to drink eight glasses of water every day. Simple enough. (Though, at home, I can't seem to manage to make it to the faucet eight times on any given day.) Vacation is the perfect opportunity to take the time to do these little things for one's self. Right? Unfortunately I didn't take into account the scarcity of water in Europe. It isn't that the well has run dry per se but they are quite stingy with the H20 and it's certainly more valuable cost-wise than a loaf of bread or a serving of pommes frittes. It's not readily served at your table with your meal, that much is certain. In Heidelberg, parched with thirst after a brisk walk through the Altstadt, under the watch of hundreds of stoic glances, I found a small pub and ordered a caffe (one cannot cleanse 24-7) along with a gass wasser. I received a four ounce bottle of the precious commodity and paid a dear four Euro for it. I slammed it like a shot of Jagermeister back home and still there was thirst. Four Euro for a belch and the slightest quench. Would I order another? Non. I'm back-packing on a budget – a story for another time. It's cheaper to order caffe after caffe.
Side Note: Not sleeping well in Europe. Surely due to the time change. What else could it be?
So much for flushing of the body let's work on the mind then
It seems unfortunate somehow to compare people to commodes but I have discovered that here, in the towns and cities of Europe, there are as many different thrones and ways to flush them as there are people, which just seems so damn appropo considering my purpose. I've searched, at times to no avail, for flush handles, levers, buttons, and knobs. I've searched on the floor, the walls, the toilets themselves, even the ceiling once or twice. I've wondered if I am a Herren or a Damen and I've actually asked what I would deem a patron lady of saints because thankfully she did not send me to the wrong john. And nothing is more grounding to the ego than standing at the wash basin frantically waving your hands in front of the motion sensors only to realize that, indeed, there are no motion sensors but rather a metal pedal on the floor.
Damn Americanos!
So you know a little about me. My fascination with the washrooms of the world, the state of my ego at being pushed aside by a nine year old replica of Heidi, complete with hat, as her booted foot turned on the water where my magical hands could not. What you don't know if that typically I'm not a whiner. I never was one to spew and spill about my current obstacles in life, hiccups, as I like to all them. (Although, out of my fashion, I will say at times they feel more like epileptic fits.) I will say this – Europe, like their toilets, gives you a myriad of ways in which to flush your mind waste. Frankly I came here with a mind not unlike the streets of New York on garbage day. Too much going on in all aspects of my life and a cold that has lasted for a month and a half. Wait, was that me whining?
My point?
I challenge you to visit the Swiss village of Pontresina and walk these quaint streets where the construction crews work, not on their thoroughfares, but rather on gigantic snowmen igloos. Where you walk into any one of their welcoming ristorantes and realize there truly is beauty in simplicity.  The decor and the servers greet you with large smiles and "hallos" and, upon realizing that you're American are actually over-eager to use their vast language prowess with two or three "good-byes" and a few refrains of "have a good day." Where you walk into your hotel room and see the feather comforters lined in tiny white and blue pin stripes folded neatly into three as is the German way. Your pillow, with the same crisp coverlet, molded into the shape of a Chinese fortune cookie. The walls white and the wood natural knotted pine and all the furniture low to the ground making you feel larger than life in more areas than one. Where you wake in said room and immediately peer through the pristine windows with their half eyelet lace coverings to view the Alps in all of their fir green and snow white glory topped simply with a flawless blue sky interrupted only by the shadow of a waxing gibbous moon. Try not to focus, try not to see the beauty inherent, try not to appreciate your life – despite it's clutter, at that very moment, try not to put things into their proper perspective. I dare you. You will find the means to flush, you just gotta find the handle. Go ahead and ask that booted brat if that's what it takes.
https://melaniebates.com/wp-content/uploads/2010/08/green-flush.jpg
403
500
Melanie Bates
https://melaniebates.com/wp-content/uploads/2021/03/Untitled-1.png
Melanie Bates
2010-08-02 02:14:45
2015-08-18 14:46:19
The Means to Flush