On Queendom & Building Your World (Plus a Gift!!!)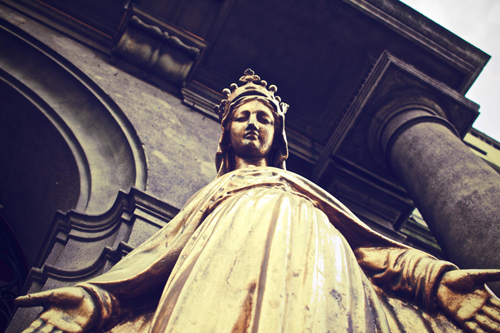 Not so very long ago I felt like there was a rent in the fabric of my world.
I was uprooted…
Unsettled.
Undone.
A lot of paradigms shifted for me last year. I was so unraveled that I actually wrote out everything that happened in that 12-month period and sent it to my dear friend and fellow coach, Lisa Hayes, and she wrote an obituary for me for 2014. (I highly recommend this process. Boy, was it super powerful.)
Most folks usually feel pretty firmly planted in their worlds. Normally I do too, but what had seemed like old hat stuff to me, was now new hat stuff and I needed a different hat. Unfortunately, I wasn't sure what kind of hat I liked anymore. I knew it wasn't a baseball cap that says I ♥ Bieber in tiny diamond rhinestones. It wasn't a black felt fedora either. It most definitely wasn't one of those Little House on the Prairie bonnets that Laura Ingalls wore. I felt fairly clear on what kind of hat it wasn't and that was good. Oftentimes we gain clarity by figuring out what we don't want.
But, while I was über clear on what I didn't want, I was struggling mightily to get clear on what I did want, let alone being able to catch the tiniest glimpse of how I wanted to feel in my life. Surgery, deaths, anxiety, a diagnosis of rheumatoid arthritis – I'm telling you, it was a rough 2014, to say the least.
I figured I couldn't possibly be alone in feeling so lost. Surely there were others like me who had trouble getting to that quiet place of contemplation surrounding their desires after an uprooted time in their life. Undoubtedly, there were at least a couple someones who weren't sure what it was they were looking for. And… one thing I knew for sure? I wasn't the only one who'd had one helluva tough year.
So… I dove into the core of my savage geekery and pulled out a little writing tool called Worldbuilding. Using my knowledge of deliberate creation and bits and pieces of my Story Shape Shifting program, I began a process of rebuilding my world from the ground up. Suffice it to say, I found my hat.
It's a crown.
And when I wear it, I remember that I get to build and rule my world.
The journey I took was so powerful, I decided to write up the process and reached out to my favorite designer (Shannon Kaiser of Play With The World) to build it out for me all pretty-like.
And it's my gift to you.  
If you've had a rough year, or even if it was only mildly annoying, and you're looking to change some things up, feel free to download it by opting in here. When you sign up for Worldbuilding: Create Your Life & CLAIM Your Crown, you'll be automatically re-routed to a page where you can download the PDF document. You'll also be subscribed to my blog which goes out once or twice a month in newsletter format.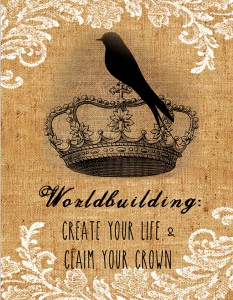 Enjoy! And please let me know here in the comments about your experiences in doing this powerful process.
Donning my diadem,
Melanie
https://melaniebates.com/wp-content/uploads/2015/01/with-open-arms.jpg
333
500
Melanie Bates
https://melaniebates.com/wp-content/uploads/2023/06/Melanie-Bates-Logo-1030x796.png
Melanie Bates
2015-01-24 14:36:57
2016-05-20 10:50:44
On Queendom & Building Your World (Plus a Gift!!!)