Who is Your Ideal Client? (You Might Be Surprised…)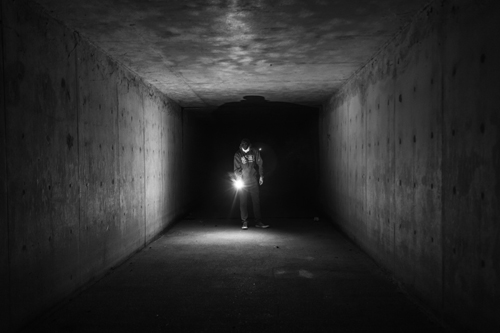 I love Aha moments… more than mashed potatoes with a pound of real butter… more than snoring puppies sleeping soft-belly up… more than baby violet crocuses punching through the last bit of spring snow.
A few weeks ago I was coaching a client through some business "muck," and I asked her to write an ideal client profile.
You've heard of those, right? The process is pretty common, but essentially you're getting clear on your perfect client by writing down their attributes, perhaps what they struggle with, and maybe even detailing their personality a bit. I do this process with most of my business coaching peeps. If you don't know who you want to invite into the folds of your business, they're not likely to show up, eh?
I'd grown to know this particular client fairly well over the weeks before I asked her to create her Ideal Client Profile, but when she read me the results, I was dumbstruck.
She was describing herself.
Well… duh! I know it seems obvious. Maybe you've already realized this for yourself. But I'd certainly never made the connection.
As soon as our call was over I sat down and wrote out my Ideal Client Profile to test my hypothesis:
My ideal clients are heavily focused on spiritual and emotional growth. They're full of depth and are ready to dig deep. They're committed to doing what it takes to get where they want to go. They're ready to take responsibility for what they've created. They're introspective, philosophical and pretty self-aware. They're smart too – whip-smart. Often, their work is in being of service to others. They're great storytellers, but their stories don't always serve them. They want to become masterful storytellers, weaving tales that empower them. They are well aware that they are the hero or heroine of their own journey and they come to our sessions bearing a scythe to clear the brambles and briars from their path. They listen to the Afternoon Delight station on Pandora. <—- Cut that last one. I don't really expect my clients to love The BeeGees as much as I do, though that is a bonus.
Yup. I had just described myself.
That was my first Aha, but there was another.
My second Aha came during the conversation that ensued after said client read her profile to me. I felt like I was channeling someone much, much smarter than me. (Boy! That there, folks, is the magic… the reason I love coaching… what keeps me showing up – when I get out of my own way and allow something bigger to speak through me.)
I told my client that I think the fact that we are our own ideal client is the reason that we so often attract folks to us in coaching who are going through something we've just passed through ourselves. This is a super common phenomenon that happens in coaching (and in therapy.) I don't have a name for it – maybe there is one, maybe not – but, inevitably, clients come to you in the throes of an eerily similar situation/feeling that you've just worked through yourself. It's insane and it happens more often than not.
(Disclaimer: As coaches, if we're still stuck in something, we can't effectively coach another person through it. We need to either do our own work first to get unstuck or find someone who isn't sticky to work with that client.)
I then told the client to imagine a cave. If we're trying to "lead" someone through the darkness and we're four miles ahead with our flashlights bobbing ahead of us, the client can't often see their way out. If, instead, we're walking just slightly ahead, flashlight trained on the ground in front of their feet, they can make the whole journey that way. Borrowing from E.L. Doctorow, "You never see further than your [flashlight], but you can make the whole trip that way."
Now, is this true 100% of the time? Nope. I have clients who are miles ahead of me, and I have clients who are just getting started. There is something to be said for hiring someone who's already arrived at the destination you're headed to.
But make no mistake, we're all here enrolled in this school called life and we're all learning from each other.
There were all sorts of Aha's that stemmed from this. For example, if you are your own ideal client, then your business will morph when you change, no? It also may be why "the WHY" of your business changes.
Help me with this little experiment, won't you? Write out your Ideal Client Profile and tell me if you see yourself in it? Or give me a kind and gentle chiding and tell me where I'm wrong. Let's discuss here in the comments.
Melanie Bates – Professional Flashlight Holder
https://melaniebates.com/wp-content/uploads/2015/02/C8FZZ8GB0F.jpg
333
500
Melanie Bates
https://melaniebates.com/wp-content/uploads/2023/06/Melanie-Bates-Logo-1030x796.png
Melanie Bates
2015-02-26 14:29:05
2016-05-20 10:41:58
Who is Your Ideal Client? (You Might Be Surprised…)