The Icy Waters of Online Dating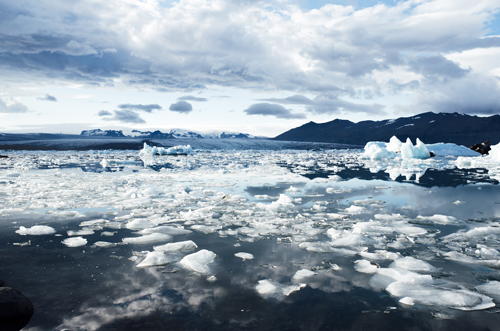 I'm exhausted.
And I've only been dating online for about three months after taking a three and a half year hiatus from the opposite sex.
The rules have changed, ladies.
About six months ago I created a profile on one of those online dating sites drizzled with pink hearts and percentages of a match to your soul. To me it was the equivalent of placing my toe gingerly back in the icy water – a toe that had been dry, cracked and peeling for quite some time. Within a day I had a number of messages and pulled said toe out of said water so quickly I pulled a muscle in my groin. I wasn't ready for this. I had no idea how to respond. Hell, I didn't know if I wanted to respond.
I flitted in and around the site for a few months. Receiving messages, not responding, feeling lost, unsure, scared shitless.
Many of the messages contained little gems like these:
"When I saw your photo, I thought you must be from Pearl Harbor, because you are the bomb!"
Or this one that blew up my ego like a puff fish, "Hey, beautiful. There is no way your are 42, you look like 29" but, alas, deflated, as I couldn't get over the grievous spelling error.
Or this golden nugget, "You look really cute in your pics. You have a beautiful smile. Tell me… Would you be open for a friend with passionate benefits?"
My favorite might have been this one, "Hi there! Sooooo would u be interested in a good lookin, married 53 yr old for friendship and maybe more???"
Don't get me wrong there were some nice messages sparsed out among the shite.
Puppy Ebola
I took the leap and went on my first date after conversing back and forth for a month with a witty gentlemen who could spell. We met at a busy dog park and while I held a nugget o' hope for our meeting there was just no spark. So-Kr8z wasn't impressed either and ended up contracting a nasty dog virus equivalent to puppy ebola. I broke it off and ran from the icy water clutching So-Kr8z to my heaving bosom. Or not so heaving, as the case may be.
A few months later I peeked back in to see if the water had calmed and found I must have processed a bunch of shit in my dreams because I felt much more prepared. I went out with a sweet 28 year old who appeared to be cultured and just looking for sex over our Thai Basil Chicken.
Next I asked out a guy for the first time in my life. He said yes. My ego and I chuckled at my batting average and we preened, whispering to each other over our cleverness. The conversation, with the guy, not my ego, went something like this:
Me: "Was wondering if you might be interested in grabbing grub or a coffee or some such sometime?"
Cute Tattoo Dude: "Actually, I would really like that. I'm out of pocket but we should figure out a time soon."
Me: "Sweet. Reach out when you're able and we'll figure out some deets."
*Utter internet silence for six days.* His computer must be broken. Surely.
Cute Tattoo Dude: "Just thought I'd say hello and tell you that I'm really looking forward to finally meeting you next week."
Me: *shakes head* Am I losing my mind? We didn't say we were meeting next week did we? After triple checking the email string I wrote, "I'm fairly free next Saturday if that might work with your schedule…"
Cute Tattoo Dude deleted his entire profile.
Batting average not looking so hot after all. I have caused a guy to wholly delete his profile from a major dating site. Props, Melanie.
"Engage!" (uttered in my best Captain Picard imitation)
So… I've been trying to engage more in the messages I receive. For example, one bloke wrote me a very nice message that didn't include the words "Hey gorgeous, how r u?"  After reading his profile and discovering that he's racist and doesn't believe in gay marriage I wrote him back, "I feel our values and political differences are too vast, but best of luck to you on here."
He wrote back, "Oh, I'm so open minded you would be surprised."
Hmm… yeah, about as open minded as Hitler.
I'm not giving up though, I'm tech savvy and confident I'll figure it out. I'm not engaging with the asshats or the guys who want to hook up while they're in town for the weekend.
I even gave one guy my phone number after we'd emailed back and forth and he didn't appear to be a serial killer looking to shave my head and attach it to his sparse beard before killing me violently. I've developed carpal tunnel from the texting. Apparently voice to voice contact is out nowadays, just FYI. Unfortunately, I'm not a big fan of texting. With anyone.  The first few texts are okay if you're asking quick questions or making plans, but once you reach about text #5 I think you should just pick up the fucking phone and call me. Plus, how do you really gauge a person's tone or the subtlety of conversation. I know it might seem safer, but man up and dial the number, for the love of God. Texting about your life's passion and big dreams is like learning to surf on YouTube on the bamboo floor in your living room.
I have a coffee date scheduled with another non-serial-killer type next week. I have one fervent hope for our time together – that he's able to place his cell phone out of reach while we converse and not play Pop Song the whole time while intermittently texting his mom.
A girl can dream.
How 'bout you? Are you dipping your toes into the icy waters of internet dating? How's that working out for ya? Any tips?
https://melaniebates.com/wp-content/uploads/2012/09/0B0D460111.jpg
331
500
Melanie Bates
https://melaniebates.com/wp-content/uploads/2021/03/Untitled-1.png
Melanie Bates
2012-09-16 02:20:52
2016-05-20 16:56:31
The Icy Waters of Online Dating